Dec 2021 – Jan 2022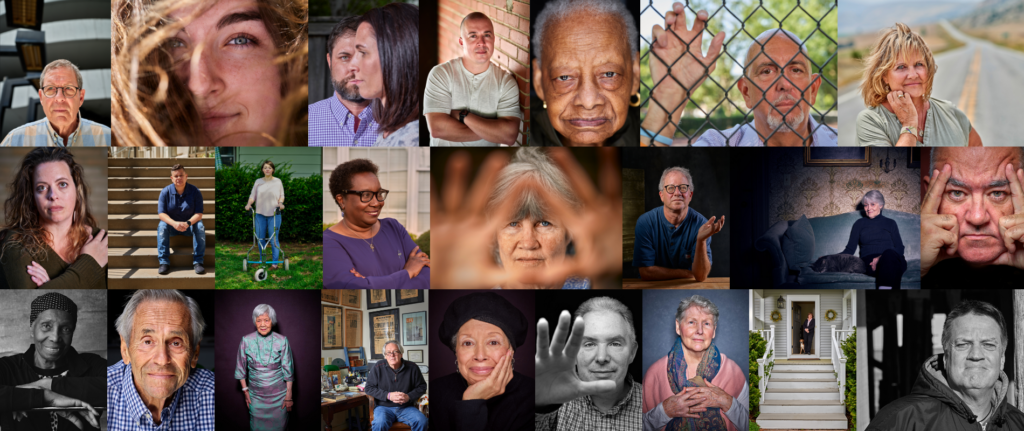 Update 2/1/2022: This exhibit has moved to the Gloucester Lyceum and Sawyer Free Library, located at 2 Dale Avenue in downtown Gloucester. Call the library at 978-325-5500 for exhibit hours and other information.
---
SeniorCare is hosting a portrait exhibit featuring the work of Joe Wallace. "The Day After Yesterday: Portraits of Dementia" features Wallace's beautiful portraits of individuals living with dementia along with a younger photograph of the subject and a brief narrative of their life. The goal of this work is to tell a more complete story of the lives of those living with dementia. The portraits will be on display at SeniorCare's Gloucester office (49 Blackburn Ctr) through January 2022.
For more information or to learn about public viewing hours, please contact Carrie Johnson at 978-281-1750 or [email protected].
To learn more about the work of Joe Wallace please visit https://portraitsofdementia.com/.
Advance reservations are required to view the exhibit and Covid safety protocols will be enforced.
Media Coverage of the exhibit
https://www.gloucestertimes.com/opinion/our-view-separating-the-disease-from-the-person/article_3d5f0d04-681f-11ec-85aa-db23a529e7dc.html
https://www.gloucestertimes.com/news/dementia-de-stigmatized-28-portraits-on-view-at-seniorcare/article_3307ee0a-5921-11ec-b5ed-7787e9f53016.html
https://wbznewsradio.iheart.com/content/mass-photographers-exhibit-addresses-different-stories-of-dementia/
https://www.gloucestertimes.com/news/fostering-a-community-understanding-about-dementia/article_01e6b752-844b-11ec-a2ec-23882fee9e79.html